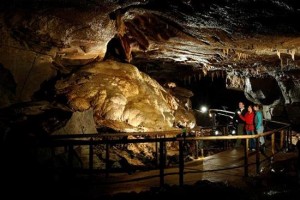 Jewel Cave, located near Custer, South Dakota is currently the third longest cave in the world, with 196 miles of mapped passageways. It is in the care of the National Park Service.  They are seeking a contractor to research and write an administrative history of the monument, which was discovered in 1900.
JECA_Administrative History
The National Park Service, Midwest Region Major Acquisition Buying Office (MABO), is issuing this request for proposal for the preparation, research and writing of an Administrative History for Jewel Cave National Monument, Custer, South Dakota.
The work consists of providing the first Administrative History of Jewel Cave National Monument, documenting its conception, authorization, and the major issues that have shaped the past and current management philosophies. This document will describe how Jewel Cave National Monument was conceived and established, its NPS development and operational history, and how it has been managed by NPS to the present day. Jewel Cave was the first National Monument established for the protection of a cave.
THIS REQUIREMENT HAS BEEN SET ASIDE FOR TOTAL SMALL BUSINESS COMPETITION IN ACCORDANCE WITH FAR 52.219-6 NOTICE OF TOTAL SMALL BUSINESS SET-ASIDE.
PLEASE BE ADVISED THAT THIS REQUIREMENT MAY BE DELAYED, CANCELLED, OR REVISED AT ANY TIME DURING THE PROCESS BASED ON DECISIONS RELATED TO THE DEPARTMENT OF INTERIOR (DOI) AND NATIONAL PARK SERVICE (NPS).
Interested contractors should obtain contract documents at this link.
Deadline for the receipt of completed tenders: 27 July 2018
Contact:
Nicholas M Murray,
(402)661-1698
nicholas_m_murray@nps.gov
National Park Service
601 Riverfront Drive
Omaha, Nebraska  68102