opportunities in the united states and canada
We bring work to your desktop allowing you to focus on what you do best
Finding the work that doesn't go out to bid publicly
So much work in the US doesn't go out to public bid. So, we research and find new business Opportunities for you before the institution starts looking for a short list to bid on their contract. Each day we add new American and Canadian Opportunities to the site, providing you with key project information including budget, expected completion date, project contacts and the details of the companies who have been appointed already.
$24 Billion and growing
Right now we have over 240 current American and Canadian museum and heritage Opportunities profiled, completing in the period 2020 to 2035, with budgets totalling over $24 billion. We add more every day.
We find the information you need
So you can approach possible clients or contractors before they go out to bid to a short list of known firms, or develop their subcontracting teams.
All kinds of museums and heritage projects
We publish Opportunities of all sizes; from the $5 million Great Lakes Dossin Museum (opening in 2021) to the $1.5 billion Lucas Museum of Narrative Art (opening in 2022) and everything in between. Not just museums, either...our research extends to all types of visited attractions; arts centers, historic buildings, animal experiences, ships, visitor education centers, parks and libraries.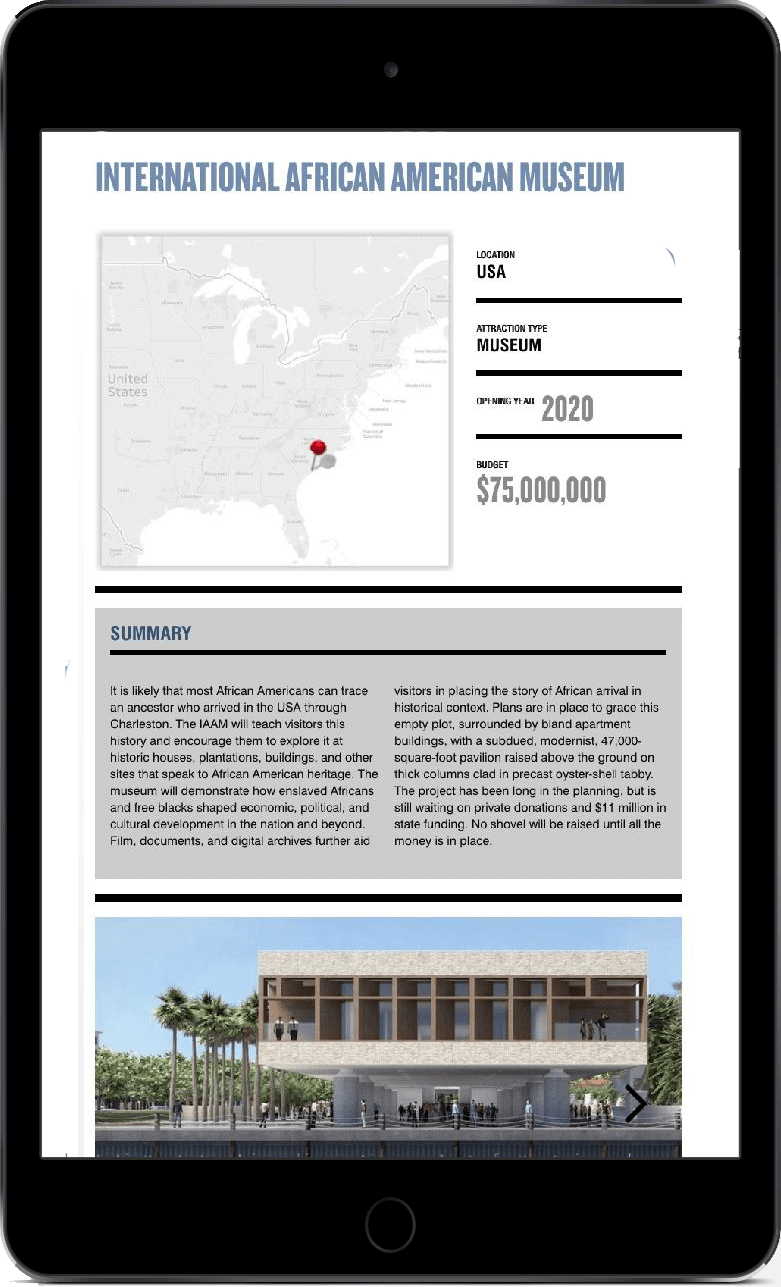 Daily Summaries
Every morning receive a digest of all the new content published the day before, including new Opportunities added to our market intelligence database.
Weekly Report
Quickly scan and understand what is happening across the whole of the sector in our Weekly Report, sent each Monday.
MuseumINSIDER has been collecting market intelligence specifically on the museums and heritage sector for twelve years. We've published over 24,000 RFPs, tenders and tender awards, and have profiled over 700 forthcoming museum Opportunities. These profiles provide a summary of the project and key contact information for the client and contractors already appointed.  Saving you weeks of time trying to find the next prospect.
subscriber satisfaction - 90%

subscriber interest in international opportunities - 77%

our long term renewal rate - 85%
$ Billion worth of opportunities worldwide
years of archived information
Contact us for a free trial of MuseumINSIDER, so you can see it for yourself.