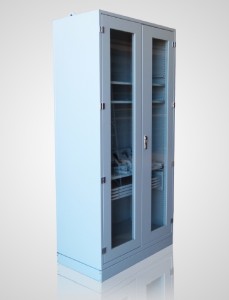 Following three years of development work, Bedford-based company PSJ Fabrications is now launching their range of "Guardian" bespoke collection cabinets for museums.
The company, leading specialists in sheet metal design, fabrication & finishing, have been producing precision engineered products specifically for the museum industry since the 1960's.
Fully welded construction from 2mm mild steel means that the cabinets are built to last. The units are polyester powder coated as individual components prior to assembly to ensure that even the parts you can't see are protected against rust and corrosion. Cabinets are made to your exact requirements and bespoke sizing.
The museum cabinet supports a wide range of storage solutions with racks, drawers and shelves to suit the client's specific requirements. Utilising full height standard fixing positions these can be configured to produce the exact layout. As a result of the standardised design these bespoke cabinets can be manufactured in a short lead-time, at a competitive price.
For more information, go to this link.