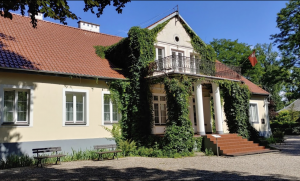 The Museum of Mazovian Nobility in Ciechanów, Poland, gives visitors insight into the Voidship's local culture and history and consists of 3 buildings; The Exhibition Building, The Castle of the Mazovian Dukes in Ciechanów, a branch of the Museum of Positivism in Gołotczyzna and park. They are now seeking a contractor for a Public Facing Collection Storage Facility Construction for the Museum of Positivism branch. The building will have technical and conservation, storage, public and scientific functions with backup rooms for the above-mentioned functions. The estimated contract value is unspecified.
Museum of the Mazovian Nobility, Ciechanów: Public Facing Collection Storage Facility Construction
Opis przedmiotu zamówienia 1. Opis przedmiotu zamówienia:
1.1.Przedmiotem inwestycji jest budowa centralnego magazynu zbiorów wraz z przestrzenią zwiększającą dostęp do kultury na terenie Muzeum Pozytywizmu wraz z instalacjami wewnętrznymi (wod-kan, wentylacji mechanicznej, centralnego ogrzewania oraz ciepła technologicznego, elektrycznej, teletechnicznej, inst. hydrantowej, inst. oddymiania klatek schodowych) oraz zagospodarowaniem terenu, budowie instalacji zewnętrznych (elektrycznej, fotowoltaicznej, oświetlenia terenu, teletechnicznej, wody, kanalizacji sanitarnej, kanalizacji opadowej, inst. pomp ciepła), drogą wewnętrzną, chodnikami, miejscami postojowymi, zatoczce autobusowej wraz z przebudową zbiornika wodnego na dz. nr 35/7 obr. 0012 Gołotczyzna przy ul. Łąkowej 17 w Gołotczyźnie w gm. Sońsk.
Budynek objęty projektem budowlanym zlokalizowany jest na działce ewid. nr 35/7 obręb 0012 Gołotczyzna, jednostka ewid. 140209_2 gm. Sońsk przy ulicy Łąkowej 17 w miejscowości Gołotczyzna, powiat ciechanowski, województwo mazowieckie. Projektowany budynek jest obiektem dwukondygnacyjnym, niepodpiwniczonym, zaprojektowanym w kształcie litery L, krytym dwuspadowym dachem o dwóch poziomach kalenicy. Dwa wąskie segmenty, w których znajdują się klatki schodowe mają szklane przekrycie.
Budynek jest jednokrotnie dylatowany. Na poddaszu przewiduje się usytuowanie central klimatyzacyjnych.
Budynek zaprojektowano w konstrukcji tradycyjnej z murowanymi ścianami, monolitycznymi stropami monolitycznymi i żelbetową konstrukcją nośną dachu. Budynek pełnić będzie funkcję techniczno-konserwatorską, magazynową, ogólnodostępną oraz naukową z pomieszczeniami zaplecza dla wymienionych funkcji. Budynek ma dwie klatki schodowe w pobliżu segmentu narożnego.
For further information, interested contractors should go to this link.
The deadline for submission of proposals is 18 August 2023 by 10:00 am local time.
Contact:
Muzeum Szlachty Mazowieckiej w Ciechanowie
Warszawska 61 A, 06-400 Ciechanów,
Poland
+48(23) 672 53 46
sekretariat@muzeumciechanow.pl