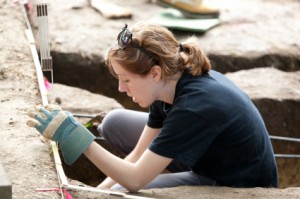 The Museum of London Docklands documents the history of the port and river from its historic warehouse buildings on the Isle of Dogs, near Canary Wharf in East London.  They are currently seeking a contractor for exhibition design Phase I of a major exhibition taking place in 2020 that will focus on an outstanding archaeological discovery made in outer London in the autumn of 2018, which has not yet been made public. The estimated contract value is between £10,000 - £25,000.
Museum of London Docklands - Exhibition Design Services (Phase 1)
This exhibition will be the major exhibition for the Museum of London Docklands for 2020. The exhibition will run from 3 April to 25 October 2020. This Design Services tender is to include 3D, 2D and lighting design. The fixed fee for design services is £20,000. The budget for setworks and graphics is £80,000. The build budget is supplemented by the Museum's existing stock of showcases, AV hardware and lighting supplies.
As the archaeological discovery and the exhibition have not been publicly announced, designers will be required to sign an NDA before being able to access further details and all sections of the tender.
Exhibition concept
The exhibition will focus on an outstanding archaeological discovery made in autumn 2018 in outer London. The discovery has not been announced to the public yet as it is subject to the Treasure Act. The exhibition will show the find in its entirety and it will be the first time the archaeological discoveries will be on display to the public. In addition, the exhibition will focus on the different processes behind the discovery, conservation and research of the finds, highlighting their importance and placing them into the wider archaeological context of the Thames valley.
Key dates
Tender period 2.7.19 - 22.7.19 (3 weeks)
Appointment and project initiation 23.7.19 - 2.8.19 (2 weeks)
Concept design stage and presentation 5.8.19 - 13.9.19 (6 weeks)
Scheme design stage and presentation, and prepare build contractor procurement 23.9.19 - 8.11.19 (7 weeks)
Build contractor appointment, and detailed design stage and presentation 18.11.19 - 20.12.19 (5 weeks)
Final designs and offsite production 6.1.20 - 21.2.20 (6 weeks)
Installation 24.2.20 - 01.04.20 (6 weeks)
Exhibition opens 3.4.20
Contract start date: 23 July 2019
Contract end date: 01 April 2020
Interested contractors wishing to obtain documents and to bid on this opportunity should express interest.
Deadline for submission of completed tenders: 17 July 2019
Contact:
Museum of London
150 London Wall
London
EC2Y 5HN
UK
For the attention of: Rosalie Wiesner
Telephone: 02078145521
Email: rwiesner@museumoflondon.org.uk