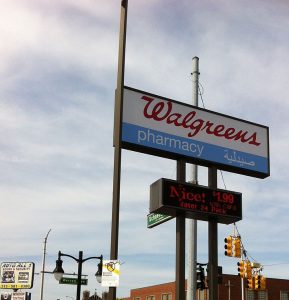 Detroit has some of the largest Middle Eastern and Arab-American communities in the United States. Arriving in the early 1870s, the first Middle Eastern settlers in the Detroit area were Lebanese people. By 1916, Henry Ford's factories had 555 Syrian employees, including many recently-arrived Muslims. The Middle Eastern community's contribution to the city's history is highly significant. The City of Detroit is now seeking proposals from contractors for a Middle Eastern Historical Context Study.
City of Detroit, MI: Middle Eastern Historical Context Study. Solicitation ID: 23CJ183811,1 / 183811,1. Contract opportunity type: RFP.
The City of Detroit Office of Contracting and Procurement (OCP) requests proposals from qualified firms to provide a historic context study for Middle Eastern history in Detroit.
The Historic Designation Advisory Board (HDAB) is seeking an experienced contractor to complete a historic context study for Middle Eastern history in Detroit, which includes a survey, research, and the collection of oral histories from across the city.
The project will also identify and prepare a National Register of Historic Places nomination for a property associated with this historic context. The National Register nomination will be completed by HDAB staff and will not be within the scope of work for the selected contractor. The final report and other deliverables are intended to serve as a basis for NRHP nominations, Section 106 reviews, Historic Preservation Tax Credits (state and federal), and preservation planning. It will help the City's Planning and Development Department make more informed decisions as it develops neighbourhood plans and future developments. Another primary goal of this project is to strengthen partnerships between City government and community organizations/institutions, increasing public awareness of what historic preservation is and how it can both benefit and recognize historically under-served communities.
This will be achieved through a series of public and stakeholder engagement meetings taking place in person and/or virtually. These meetings will aim to actively engage the community in the project in order to collect information about their collective histories. The goal of this effort is the development of a historic context that represents the entireties of Middle Eastern communities' history in Detroit. In recognition that traditional archival sources do not include an abundance of information about underrepresented communities, non-traditional research sources will be used and will include but not be limited to photographs, manuscripts, film, items of cultural significance, as well as the collection of oral histories.
The deadline for submission of questions is 15 August 2023.
For further information, interested contractors should go to the following link. NB: Ctrl/Cmd F search: 183811,1
The deadline for submission of proposals is 1 September 2023 by 4 pm local time.
Contact:
2 Woodward Avenue
Ste 1100
Detroit, MI 48226
United States
Contact person: Christopher Jones
cjones@detroitmi.gov
Image: Pharmacy signage with Arabic translation in Detroit.