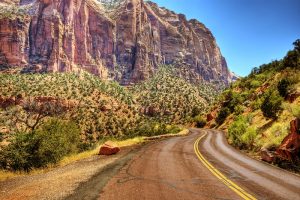 Zion National Park is located in southwestern Utah near the town of Springdale (pictured). A prominent feature of the 229-square-mile park is Zion Canyon, which is 15 miles long and up to 2,640 ft deep. The canyon walls are reddish and tan-colored Navajo Sandstone eroded by the North Fork of the Virgin River. The National Park Service, who care for the site, were seeking contractors to provide security and fire system monitoring and maintenance at Zion National Park. The successful contractor is Fire Protection Service Corporation. The estimated contract value is $16,284.
AWARD: NATIONAL PARK SERVICE: ZION National Park. ALARM MONITORING. Notice ID: 140P1221Q0021. Related Notice: 140P1221Q0021. Contract Opportunity Type: Award Notice (Original).
To see the original notice, please go to the following link.
To see the full award, please go to the following link.
Award Details:
Fire Protection Service Corporation
4155 Harrison Blvd
Ogden, UT 84403
USA
+1 866 853 7338
Contact:
NPS IMR - Lakewood MABO
12795 W Alameda Parkway
Lakewood CO 80228
USA
For the attention of: Bill Walton
bill_walton@nps.gov
+1 435 772 7635
Image: Zion National Park/ Wolfgang Staudt/Flickr CC