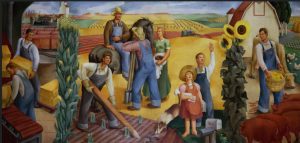 The Fine Arts Collection of the General Services Administration is one of the United States' oldest and largest public art collections, with works dating from the 1850s to the present.  Many date from the New Deal art projects of the 1930s, and are often located in federal buildings and courthouses across the USA.  They have been seeking to set up a framework agreement with up to three companies to provide art handling, packing, shipping, object mounts, installation, deinstallation, design, exhibition construction and storage of objects.  The successful contractors are Artemis Fine Arts Inc, Ely Inc and U.S Art Co Inc. The total contract value was not specified, but a minimum guarantee of $1,000 was indicated.
To see the original tender/RFP, please go to this link.

Successful contractors:
Artemis Fine Arts, Inc.
10405 Shady TRL STE100
Dallas, TX 75220-2554
USA
Ely, Inc.
7804 Marlboro Pike
District Heights, MD, 20747-4412
USA
U.S. ART CO., Inc.
66 Pacella Park DR
Randolph, MA, 02368-1757
USA
Contact:
General Services Administration
Office of Acquisition Management (OAM)
Acquisition Services Division (PQC)
Wing: 2200
Washington, DC 20405
USA
for the attention of: Evangela Brown or Tyrone Dallas, Contract Specialists
evangela.brown@gsa.gov
tyrone.dallas@gsa.gov
Image: "Kansas Farming", 1936, by Charles Richard Haines / Fine Arts Collection, GSA