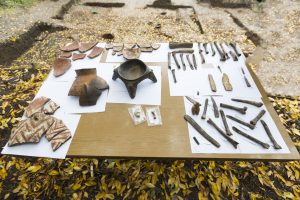 The United States Fish and Wildlife Service is an agency of the US federal government within the US Department of the Interior dedicated to the management of fish, wildlife, and natural habitats. The US Fish and Wildlife Service were seeking contractors to undertake an archeological and architectural assessment of Cross Canal Ditch/Road, County Line Ditch/Road, Bull Boulevard Ditch/Road, and Insurance Ditch/Road in the Great Dismal Swamp area of Virginia. The successful contractor is New South Associates Inc. of Stone Mountain, Georgia. The estimated contract value is $23,733.
AWARD: US FISH AND WILDLIFE SERVICE: Archaeological Assessment - Great Dismal Swamp NWR, VA. Notice ID: 140F0421Q0020. Related Notice: 140F0421Q0020. Contract Opportunity Type: Award Notice (Original)
To see the original notice, please go to the following link.
To see the full award, please go to the following link.
Award Details:
New South Associates Inc.
6150 E Ponce de Leon Avenue
Stone Mountain, GA 30083
USA
+1 770 498 4155
Contact:
US Fish and Wildlife Service
1875 Century Boulevard, Suite 310
Atlanta GA 30345-3310
USA
For the attention of: Roger Lockhart
roger_lockhart@fws.gov
+1 4046 797 124