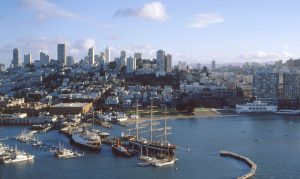 The San Francisco Maritime National Historical Park is located in San Francisco, California. The park includes a fleet of historic vessels, a visitor center, a maritime museum, and a library/research facility. The National Park Service, who care for the site, were seeking contractors to provide conservation to wall murals painted onto plaster. The successful contractor is Foreground Conservation and Decorative Arts LLC.  The contract value is $45,565.

AWARD: NATIONAL PARK SERVICE: SAN FRANCISCO MARITIME NATIONAL HISTORICAL PARK CONSERVATION OF BATHHOUSE WOMEN'S MURAL TREATMENT: Notice ID: 140P8620Q0022.
To see the original notice, click here.
To see the full award, go to the following link.                                                                                                                                       
Successful contractor:
Foreground Conservation and Decorative Arts LLC.
437 NY-295
Chatham NY 12037
USA
+1 917 796 1447
foregroundcda@gmail.com
Contact:
NPS, PWR - GOGA MABOBuilding 201
Fort Mason
San Francisco, CA 94123
USA
For the attention of: Gary Kramer
Gary_Kramer@nps.gov
Image: San Francisco Maritime National Historical Park/NPS