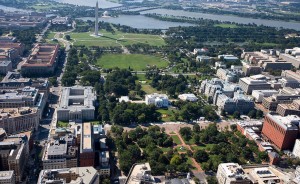 1600 Pennsylvania Avenue is arguably the most famous address in the United States, and the White House one of the most recognized residences in the world. It is at the heart of the President's Park, which also includes Lafayette Park, the Ellipse and its side panels, the First Division Monument, and Sherman Park. Many national monuments and memorials are also found throughout the park, illustrating the significant role of the park as a symbolic location on the urban landscape of the nation's capital.  The National Park Service, who care for the site have been seeking contractors to develop a Museum Collection Management Plan for the collections included in President's Park. The successful contractor is PACIFIC COAST CONSERVATION, and the total contract value is $38,560 (approx. £27,489).
To see the original tender, please go to this link.
To see the award notice, please go to this link.
Contact:
NPS, NCR - Regional Contracting
Acquisition Management Division
1100 Ohio Drive SW Contracting Anne
Washington DC 20242-0001
USA
For the attention of: Sherri Miller
Sherri_Miller@nps.gov
+1 202 505 0108
Successful contractor:
PACIFIC COAST CONSERVATION
Denver, CO 80207-3113
USA