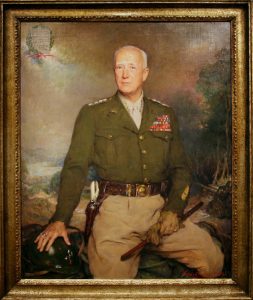 The General George Patton Museum of Leadership is a museum in Fort Knox, Kentucky, dedicated to the memory of General George S. Patton, Jr. (pictured), and his role as a leader from World War I to the present day. The museum was seeking contractors to provide Internet Services. The successful contractor is Time Warner Cable Services LLC. The estimated contract value is $69,258.
AWARD: INTERNET, PATTON MUSEUM, FORT KNOX: Notice ID: W9124D20P0144. Contract Opportunity Type: Award Notice (Original).
To see the full award, please go to the following link.
Award Details:
Time Warner Cable Enterprises LLC.
400 Atlantic St Ste 6
Stamford, CT 06901
USA
+1 877 495 9201
Contact:
KO DIRECTORATE OF CONTRACTIN BLDG 1109B RM 250
Fort Knox, KY 40121-5000
USA
For the attention of: Wesley Dowell
wesley.e.dowell.civ@mail.mil
+1 5026 244 145
Image: General George S. Patton, Jr., 1945, Oil on canvas by Boleslaw Jan Czedekowski/ Photo Flickr CC