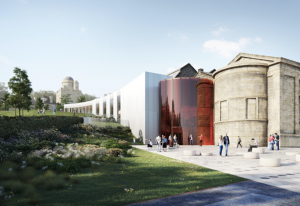 Renfrewshire Council, who manage the Paisley Museum & Art Galleries, are undertaking an ambitious £42 million extension, refurbishment, and redisplay of the Museum, due to complete in 2022. They have been seeking a building contractor for the main works contract. The successful contractor is Kier Construction Limited of Manchester, and the total contract value is £23,431,995.
To see the original tender, please go to this link.
To see the award notice, please go to this link.
Contact:
Renfrewshire Council
Renfrewshire House, Cotton Street
Paisley
PA1 1JB
UK
Contact person: Nicola Hainan
Telephone: +44 7958009541
E-mail: nicola.hainan@renfrewshire.gov.uk
NUTS: UKM83
Internet address(es)
Main address: http://www.renfrewshire.gov.uk
Address of the buyer profile: https://www.publiccontractsscotland.gov.uk/search/Search_AuthProfile.aspx?ID=AA00400
Successful contractor:
Kier Construction Limited
81 Fountain Street
Manchester
M2 2EE
UK
Telephone: +44 1417793020
NUTS: UKM83
The contractor is an SME: No
Image: AL_A Architects