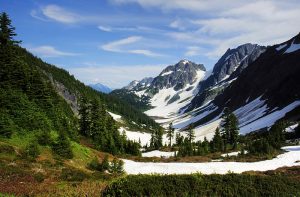 North Cascades National Park is in northern Washington State. It's a vast wilderness of conifer-clad mountains, glaciers and lakes. The National Park Service, who care for the site, were seeking a contractor to provide Data Recovery Services at an Archaeological Site in Ross Lake. The successful contractor is ASM Affiliates, and the estimated contract value is $58,000.
NATIONAL PARK SERVICE: Conduct data-recovery-scale excavation of one (1) pre-contact age archeological site (45WH473) in the drawdown of Ross Lake, Whatcom County. Notice ID: 140P8321Q0006. Related Notice:140P8321Q0006. Contract Opportunity Type: Award Notice (Original).
To see the original notice, please go to the following link.
To see the full award, please go to the following link.
Award Details
ASM Affiliates Inc.
2034 Corte Del Nogal
Carlsbad, CA 92011
USA
Contact:
NPS, PWR - OLYM MABO
600 E. Park Avenue
Port Angeles WA 98362-6757
USA
For the attention of: Michael Beatty
michael_beatty@nps.gov
Image: Cascade Pass and Pelton Basin/ Wikimedia Commons