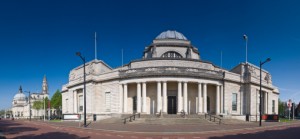 The National Museum Wales, headquartered in Cardiff, is responsible for collections across seven different sites in Wales, including at their main building in Cathays Park. They were seeking a contractor for the provision of EPOS hardware and related services. The successful contractor is ECR Retail Systems, and the total contract value is £270,000.
To see the original tender, please go to this link.
To see the award notice, please go to this link.
Contact:
Amgueddfa Cymru — National Museum Wales
Cathays Park
Cardiff
UKL22 Cardiff and Vale of Glamorgan
CF10 3NP
United Kingdom
E-mail: tenders@museumwales.ac.uk
Telephone: +44 2920573376
Internet address(es):
Main address: www.museumwales.ac.uk
Address of the buyer profile: https://www.sell2wales.gov.wales/search/Search_AuthProfile.aspx?ID=AA0391
Successful contractor:
ECR Retail Systems
Church House, Church Lane
Kings Langley
UKG11 Herefordshire, County of
WD48JP
Country: United Kingdom
The contractor is an SME: no