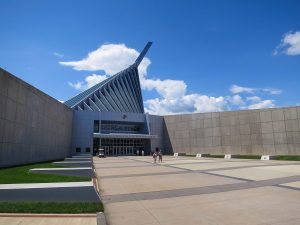 The National Museum of the Marine Corps is the historical museum of the United States Marine Corps. Located in Triangle, Virginia near MCB Quantico, the museum opened in 2006, and is now one of the top tourist attractions in the state, drawing over 500,000 people annually. The museum is currently undertaking extensive renovation works with exhibits reopening in phases until 2030. The Naval Facilities Engineering Command (NAVFAC) Washington issued a Request for Proposal (RFP) for a firm fixed-price, construction contract to fabricate and install structural floor supports for large scale museum artifacts. The successful contractor is Balfour Beatty Construction. The estimated contract value is $41,7967.
US DEPT OF THE NAVY: National Museum of the Marine Corps Galley 13 and 14 - Macro Exhibits. Notice ID: N4008020R5255. Related Notice: N4008020R5255. Contract Opportunity Type: Award Notice (Original).
To see the original notice, go to the following link.
To see the full award, please go to the following link.
Award Details:
Balfour Beatty Construction LLC.
11325 Random Hills Road STE 500
Fairfax, VA 22030
USA
+1 703 273 3311
Contact:
US Department of the Navy
1314 Harwood Street SE
Washington Navy Yard
Washington, DC 20374-5018
USA
For the attention: Deidre Parker
deidre.parker@navy.mil
+1 703 784 5459
Image: Wikimedia Commons