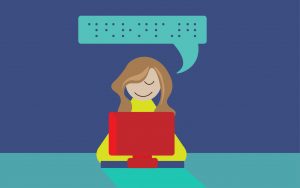 The Library of Congress is the nation's oldest federal cultural institution and serves as the research arm of Congress. It is also the largest library in the world, with over 158 million books, recordings, photographs, maps, films and video, sheet music, sound recordings, and manuscripts in its collections. They were seeking a contractor to produce a Braille Book Review, a bimonthly publication that lists books newly added to the National Library Service for the Blind and Print Disabled collection (NLS), in braille. The successful contractor is Clovernook Center for the Blind and Visually Impaired. The estimated contract value is $3,500,000. 
AWARD: LIBRARY OF CONGRESS: Braille Book Review Publication. Notice ID: 030ADV20Q0209. Related Notice: 030ADV20Q0209. Contract Opportunity Type: Award Notice (Original).
The Library of Congress has awarded a $3.5 million dollar IDIQ contract to the Clovernook Center for the Blind & Visually Impaired based off a competition held via solicitation # 030ADV20Q0209. This contract is for production of Braille Book Review. The First Task Order under this IDIQ was placed at the same time as the IDIQ and valued at $194,808.00. The IDIQ has an ordering period of 5 years. This requirement was previously synopsized and competed on SAM.
To see the original notice, please go to the following link.
To see the full award, please go to the following link.
Award Details:
Clovernook Center for the Blind and Visually Impaired
7000 Hamilton Avenue
Cincinnati, OH 45231
USA
+1 513 522 3860
Contact:
Library of Congress
101 Independence Ave SE LA 325
Washington , DC 20540
USA
For the attention of: Brian D. Curl
bcurl@loc.gov
+1 2027 073 090