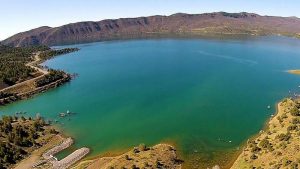 Lake Nighthorse is a reservoir created by the Ridges Basin Dam southwest of Durango in Colorado which has been open to the public since April, 2018.  The Bureau of Reclamation, who manage the site, have been seeking a contractor to fabricate and install signage for the site. The successful contractor is Monarch Management Consultancy of Colorado Springs, and the total estimated value of the contract is $54,890.
To see the summary of the original RFP, please go to this link.
To see the award notice, please go to this link.
Successful Contractor:
Monarch Management Consultancy
411 Darlington Way
Colorado Springs, CO 80906
USA
Contact:
Bureau of Reclamation
Upper Colorado Region
Regional Office
125 South State Street, Room 8100
Salt Lake City, UT 84138
USA
For the attention of: Daniel Hays
dhays@usbr.gov
Image: Lake Nighthorse/ City of Durango