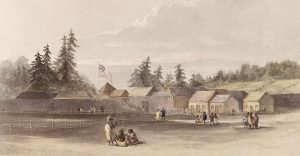 Located on the north bank of the Columbia River in southern Washington State, Fort Vancouver was a 19th century trading post for the Hudson's Bay Company in the region. The National Park Service, who care for the site, were seeking contractors to provide a resource guide on the history of women at the Fort. The successful contractor is SJR Research LLC. The estimated contract value is $17,500.
AWARD: NATIONAL PARK SERVICE: INTERPRETATION OF WOMENS HISTORY GUIDE. Notice ID: 140P8320Q0082. Related Notice: 140P8320Q0082. Contract Opportunity Type: Award Notice (Original).
To see the original notice, please go to the following link.
To see the full award, please go to the following link.
Award Details:
SJR Research LLC.
122 Baltimore Street
Gettysburg, PA  17325
+1 717 253 1107
Contact:
National Parks Service
Acquisition Management
67 Mather Place
IDC Building
Harpers Ferry, WV 25425
USA
For the attention of: Katheryn Camacho
katheryn_camacho@nps.gov
Image: Fort Vancouver in 1845 / Wikimedia Commons