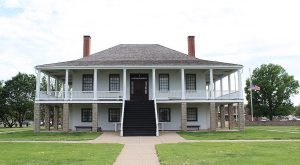 Fort Scott National Historic Site is a historical area under the control of the National Park Service in Bourbon County, Kansas. Named after General Winfield Scott, who achieved renown during the Mexican–American War, during the middle of the 19th century the fort served as a military base for US Army action in what was the edge of settlement in 1850. The National Park Service, who care for the site, have been seeking a conservator to undertake preservation treatment for a Civil War snare drum and drum sticks, as well as the fabrication of display mounts. The successful contractor is Flying Pig Art Conservation of New York City. The estimated contract value is $16,388. 
AWARD: NATIONAL PARK SERVICE: Preservation Treatment for Civil War Snare Drum and Drum Sticks. Notice ID: 140P6020Q0027. Related Notice: 140P6020Q0027. Contract Opportunity Type: Award Notice (Original).
To see the original notice, go to the following link.
To see the full award, please go to the following link.
Award Details
Flying Pig Art Conservation LLC.
536 E 5th St
New York, NY 10009
USA
+1 716 830 1349
Contact:
National Park Service
601 Riverfront Drive
Omaha, NE 68102
USA
For the attention of: Dorothy Qualley
dorothy_qualley@nps.gov