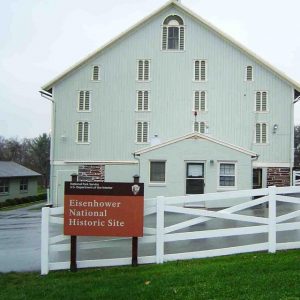 Eisenhower National Historic Site preserves the home and farm of Dwight D. Eisenhower, the 34th President of the United States, and its surrounding property. It is located in Cumberland Township, Adams County, Pennsylvania, just outside Gettysburg. The National Park Service, who care for the site have been seeking a contractor to provide Reproductions of two Oriental Rugs for the property. The successful contractor is Classic Rug Collection Inc. of Brooklyn, New York. The estimated contract value is $17,459.
AWARD: NATIONAL PARK SERVICE NORTHEAST REGIONAL CONTRACTING:  REPRODUCTION ORIENTAL RUGS FOR THE SUN PORCH AT EISENHOWER NATIONAL HISTORIC SITE IN GETTYSBURG, PENNSYLVANIA. Notice ID: 140P4220Q0029. Contract Opportunity Type: Award Notice (Original).
To see the original notice, go to the the following link.
To see the full award, go to the following link.
Classic Rug Collection Inc.
1713 8th Ave Unit 1-5
Brooklyn, NY 11215
USA
+1 718 768 3338
Contact:
DOI, NPS, NERO & NER SOUTH MABO
National Park Service
Northeast Regional ContractingSouth/Philadelphia MABO
1234 Market Street, 20th Floor
Philadelphia, PA 19107
USA
For the attention of: Deborah Coles
Debbie_Coles@nps.gov