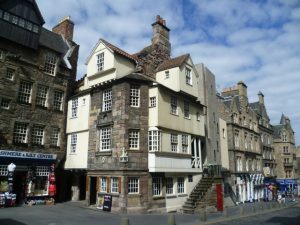 Edinburgh UNESCO City of Literature Trust are running an ambitious project to setup a Literature House in the John Knox House (pictured) that will serve as a literary hub thanks to Edinburgh's distinction of being UNESCO's first City of Literature. They have been seeking an architect-led multi-disciplinary team to carry out a paid feasibility study with a view to continuing on with the project completion. The successful contractor is Witherford Watson Mann of London, and the total contract value is £529,363.
To see the original tender, please go to this link.
To see the award notice, please go to this link.
Contact:
Edinburgh UNESCO City of Literature Trust
John Knox House, Top Floor Office, 45 High Street
Edinburgh
UK UNITED KINGDOM
EH1 1SR
United Kingdom
Contact person: Ali Bowden
E-mail: ali@cityofliterature.com
Telephone: +44 1315579850
Internet address(es):
Main address: https://cityofliterature.com
Address of the buyer profile: https://www.publiccontractsscotland.gov.uk/search/Search_AuthProfile.aspx?ID=AA30470
Successful contractor:
Witherford Watson Mann
1-3 Coate Street
London
UK United Kingdom
E2 9AG
United Kingdom
Telephone: +44 2076133113
The contractor is an SME: yes