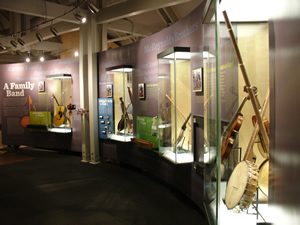 The Blue Ridge Music Center is a National Park Service facility and attraction on the Blue Ridge Parkway near Galax, Virginia, and is home to an outdoor amphitheater, visitor center, museum, and gift shop. The Blue Music Center Museum aims to  preserve and promote the historic music of Virginia and the Blue Ridge. The National Park Service has been seeking a contractor to provide roof repair works at the Museum. The successful contractor is Digital Roofing Innovations, Inc. of Decatur, Alabama, and the total contract value is $167,361.
NATIONAL PARK SERVICE: Rehabilitate Blue Ridge Music Museum Roof, VA. Contract Award Number 140P5320C0026.
The National Park Service (NPS) has previously ussed a combined synopsis/solicitation to remove and replace the standing seam metal roof and associated components for the Blue Ridge Music Center Museum, located at 700 Foothills Rd, Galax, Virginia, 24333.
To see the original solicitation, contractors should go to the following link.
To see the contract award, please go to this link.
Awarded Contractor:
Digital Roofing Innovations, Inc.
1616 Woodland St SE
Decatur, AL 35601
USA

Contact:
National Park Service
NPS, SER - North MABO
107 Park Headquarters Road
Gatlinburg, TN 37738
USA
For the attention of: Ashley Warcewicz
ashley_warcewicz@nps.gov
+1 8654 361 218