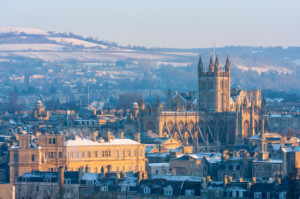 Bath and North East Somerset Council has NLHF funding for their ambitious Archway project which will convert shop buildings located near the Roman Baths Museum into a Roman Baths Learning Centre and a World Heritage Centre.  They have been seeking a contractor for the provision of AV software. The successful contractor is Jam Creative Studios of Cowbridge, and the total contract value was not specified.
Production of Audio Visual software for Bath World Heritage Centre
Bath and North East Somerset Council
We have been looking to appoint an experienced digital developer to produce a range of digital software as part of the exhibition displays in a new Bath World Heritage Centre.
The World Heritage Centre will contain a range of imaginative installations and displays that will explain why Bath is so special. These displays aim to spark peoples' curiosity in the World Heritage Site and will inspire people to go out and explore the wonderful range of historic sites in and around the city.
The Bath World Heritage Centre will open in the heart of the City of Bath World Heritage Site in 2021. It is being created as part of the Archway Project, which is funded primarily by the National Lottery Heritage Fund and National Lottery players.
The Archway Project is being delivered by the Heritage Services division of Bath and North East Somerset Council. Heritage Services operates and cares for the world-famous Roman Baths, and the Archway Project also involves opening exciting new parts of the Roman monument to the public for the first time as well as the creation of a Clore Learning Centre for the Roman Baths.
To see the original tender, please go to this link.
Successful contractor:
Jam Creative Studios
Junction House
2 Eastgate
Cowbridge  CF71 7DG
Contact:
Bath and North East Somerset Council
Guildhall
Bath
Avon
BA1 5AW
United Kingdom
For the attention of: Jenna Spellane
Tel: 01225 396286
Email: Jenna_Spellane@BATHNES.GOV.UK