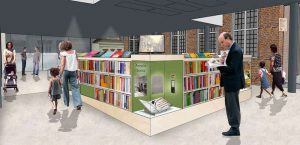 Named after famous social worker and suffragist Amelia Scott, the Amelia Scott Cultural Centre in Tunbridge Wells, due to open in 2022, will feature a museum and library as well as an adult education centre and gallery. They were seeking a contractor for the provision of exhibition and library fit-out works. The successful contractor is Factory Settings Limited, and the total contract value is £1,092,379.84.
To see the original tender, please go to this link.
To see the award notice, please go to this link.
Contact:
Tunbridge Wells Borough Council
Town Hall
Tunbridge Wells
TN1 1RS
England
For the attention of: Sophie Gowing
Tel: +44 1892526121
Email: sophie.gowing@tunbridgewells.gov.uk
Successful contractor:
Factory Settings Ltd
London
UKJ46 West Kent
E10 7DE
United Kingdom
The contractor is an SME: no
Image: TWBC