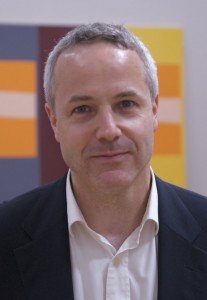 Arts Council England has announced the members of its new Executive Board – the streamlined national leadership team that will lead the re-structured organisation from April 2010. The nine-strong team is led by Chief Executive Alan Davey and consists of four National and four Area Executive Directors. They are:
- Andrew Nairne – Executive Director Arts (pictured)
- Alison Cole – Executive Director, Communications
- Laura Dyer – Area Executive Director Midlands and South West
- Althea Efunshile – Chief Operating Officer
- Anupam Ganguli – Executive Director Resources
- Moira Sinclair – Area Executive Director London
- Andrea Stark – Area Executive Director East and South East
- To be announced – Area Executive Director North
With the exception of Alison Cole, who joins the Arts Council in November, all members of the new Executive Board will take up their new roles in a designate capacity from September 2009. They will focus on setting up their new teams as well as carrying out the responsibilities of their existing regional and national executive director roles.
To ensure a smooth transition, all existing Regional Executive Directors will continue in their current roles until the new structure is established. Recruitment to this new structure is likely to be complete by Christmas 2009.
Alan Davey, Chief Executive of Arts Council England said: "Establishing our new leadership group is an important first step in the transformation of the Arts Council. We've got a huge number of changes underway in how we go about our work, and the new Executive Board will lead those changes with vigour and a commitment to the values of openness, trust and respect in the way we work with others. I am proud of the way staff at all levels are tackling the changes with maturity and a continued commitment to our mission of enabling art in this country to be the best it can be, experienced by more people."
The Arts Council is the national development agency for the arts.  It supports a range of artistic activities from theatre to music, literature to dance, photography to digital art, and carnival to crafts.  Between 2008 and 2011, they will invest £1.3 billion of public money from government and a further £0.3 billion from the National Lottery to create these experiences for as many people as possible across the country.