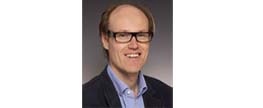 Will Gompertz, Director of Tate Media is leaving the gallery to join the BBC in new high level position.
The post, said to be on a par with those held by Nick Robinson (politics) and Robert Peston (business) will be known as arts editor. Gompertz launched Tate Media three years ago and was formerly the gallery's head of communications.  Interestingly, he appeared at the Edinburgh Fringe this year in a one man show, dubbed, "Double Art History."
The BBC said: "The creation of a new arts editor role for BBC News is part of the BBC's deeper commitment to arts and music on the BBC throughout 2010, with a wide range of initiatives aimed at supporting cultural Britain and better serving the public. These include ideas like the recent pan-BBC poetry season, which saw poetry sales surge, and BBC Radio 3's year-long celebration of Purcell, Handel, Haydn and Mendelssohn.
"The BBC has made a new commitment to partnerships in the arts, including working with the Arts Council England to transform public engagement by showcasing young talent, sharing technology and collaborating on live events. There is currently a project in development with the Public Catalogue Foundation which could enable the public to view every one of the UK's 200,000 publicly owned oil paintings.
"As part of the BBC's pledge to improve collaboration with other institutions and create the best programmes across all our platforms, the BBC set up a pan-BBC arts board, sponsored by director of vision, Jana Bennett, and director of audio and music, Tim Davie. Consisting of senior arts and creative leaders across the BBC, the board has already met and appointed a new arts coordinator, Mark Bell, who is also the vision commissioning editor for arts."
Photo:
Tate Gallery