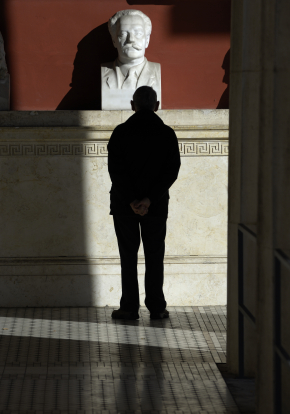 Major New Post Announced at National Gallery
The National Gallery seeks to appoint a Director of Education, Information and Access. The aim of this new position is to establish learning and participation at the heart of the National Gallery's activities. The National Gallery houses a world famous collection of Western European paintings from around 1260 to 1900 and is a repository of research materials, film, libraries and archives. This major London landmark, belonging to the nation and offering free access, attracts some five million visitors annually from around the world.
The objective of the Director of Education, Information and Access is to ensure this is accessible to all visitors, both physical and virtual, catering for all levels of interest.  All education and outreach work, including the website and usage of new media, should reflect and promote commitment to widening and facilitating access to the Gallery's Collection and knowledge bank.
Responsible for a team of 60 specialists, spanning libraries and archives to new media, audio visual and education, the role requires the skills of a consummate manager - an excellent communicator and relationship builder - who will orchestrate the talents and resources of the entire Department to provide this important public service whilst building close relationships with colleagues across the Gallery.
With proven experience of leadership and change management, empathy for the Collection and an appreciation of what modern technology can achieve through its multiple applications, the successful candidate will have the credentials, interpersonal and communication skills to earn the respect and co-operation of colleagues.
The closing date for applications is 24th February 2009.
Salary circa £70,000 pa.
To learn more, or to receive an application pack, please contact Christina Harman of Liz Amos Associates on +44 (0)20 7664 8601 or at christina.harman@lizamosassociates.com. Information is also available at www.lizamosassociates.com.
The National Gallery is an Equal Opportunities Employer.