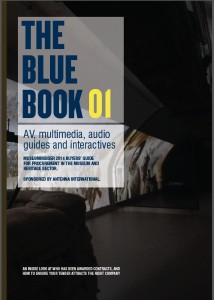 Museum suppliers want more business and heritage institutions want suppliers that deliver best value for money. MuseumINSIDER has developed a series of free and informative procurement guides to help both sides achieve these aims.
Written specifically for procurement managers and project specifiers at the UK and Ireland's museums and heritage institutions, we've gathered together information that we think will help you pick the right companies for your jobs.
By compiling examples of current best practice, as well as listings of awarded tenders from the MuseumINSIDER archive, we hope to help both the supplier and the procurement manager meet their objectives.
The first of the six volumes of the Blue Book, devoted to AV, multimedia, audio guides and interactives, is now available to download free from this link.
Many thanks to the sponsor of volume 1, Antenna International.
The file size is about 70 MB, so it may take 3-4 minutes to download if you have a broadband connection.