Creative vision, technology and digital experiences
Imagineear provides rich media experiences to visitor attractions, museums, galleries, cultural and travelling exhibitions, heritage sites as well as sports clubs and stadia worldwide.  Since the company was founded just ten years ago, we have delivered 41 million multimedia experiences to visitors at over 250 client sites worldwide, from the Houses of Parliament in London to Wembley Stadium and the Rijksmuseum in Amsterdam to the Kennedy Space Center.
We create and deliver highly engaging, interactive, multi-lingual self-guided and group-guided multimedia experiences on all manner of screens from hand-held devices to AV display panels.  We design tours that appeal to all ages and bring stories, exhibits, points of interest and venues to life.  We build hardware, software, apps and content; we help manage visitor flow, shape and design the visitor experience, optimise visitor spend and feed data insights back to you to inform your future decision making.
The power of compelling content
Our in-house production team of highly-skilled designers, creators and innovators will work closely and collaboratively with you every step of the way to carefully design your visitors' journey – both physical and emotional – using cutting-edge design tools such as 3D route mapping.  Our expert scriptwriters, producers and multimedia designers craft rich tour narratives interwoven with innovative content and features from 360° media and interactive games to visual recognition, proximity and content synchronisation technologies.
Our TourBuilder Plus™ content management platform offers you complete creative flexibility and streamlines the many production processes into an easy and intuitive workflow of building blocks to create bespoke visitor experiences uniquely tailored to tell your story, with a look and feel that is fully aligned with your brand.  Used in-house by the Imagineear team, the system also provides clients with access to preview parts of the tour, give comments and feedback, monitor updates and request changes in real time, giving you more control over your tour production than ever before.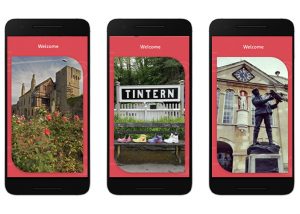 The potential of intelligent technologies
We work hard through innovation and continual R&D to develop outstanding hardware and software solutions.  With no requirement for existing infrastructure we can provide you with everything you need, from robust and flexible technology solutions to expert operational support.  Your visitors enjoy their multimedia tours using our purpose-built, Android-based touchscreen MPtouch™ tablets.  Each of our devices is designed with a battery pack for all-day repeat use, increased memory capacity to hold multiple tours and languages, and built-in security alarm for indoor and outdoor use.  Imagineear's web app solution means visitors also have the option to use their own device to experience the tour – which appears visually identical – whether on site or at home, which helps you reach the widest audience possible during this period of reduced visitor capacities.
In a COVID-adapted world, Imagineear is committed to helping you operate your museum, attraction or venue confidently, with tools and technology which support hygiene management and social distancing measures.  Imagineear's SafeSpace™ is an autonomous means of ensuring technologically that visitors remain at a safe physical distance from each other whilst onsite.  SafeSpace™ operates out of the box on Imagineear devices as a simple software upgrade.  When a visitor, or family group's space is compromised by another visitor, SafeSpace™ triggers an audio, haptic and/or visual alert on the user's device prompting them to keep a safe distance from each other.
In addition, our group-guiding technologies give tour leaders full control of the group and their tour experience, offering crystal clear commentary even in the busiest of environments.  With our ground-breaking Multimedia GroupGuide™ technology, group leaders can now intersperse live commentary with dynamic multimedia content, including 360º videos and VR/AR image recognition, all personalised in the visitor's own language.
Imagineear Ltd
The Compton Rooms
Fulham Palace
Bishop's Avenue
London SW6 6EA
UK
T +44 20 3954 3515
Clare Cooper-Hammond, Managing Director
london@imagineear.com
http://www.imagineear.com/
This company has been awarded a tender that has been published on MuseumINSIDER. You can see the award at this link.