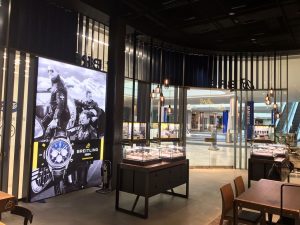 Graphic display specialist Leach Impact has unveiled a new ultra-illuminated product designed to introduce a wow factor to retail, exhibits and events environments.  The product, dubbed, "Vision Lightwall" follows twelve months of in-house development. Available in three key formats, the products integrate ultra-bright LED illumination with large format HD-quality graphics, designed to capture the attention of shoppers as well as visitors to exhibitions and events.

This self-assembly, lightweight pop-up represents a more modern and impactful alternative to simple pull-up graphics. With options up to 2m tall x 3m wide, this particular freestanding Lightwall is intended to provide brands with maximum exposure in small spaces. The tool-less system is easy to transport and erect, and CE-certified for complete peace of mind.
For venues with larger available square-footage, the modular Lightwall can be supplied in sizes up to 5m tall x 20m wide. Engineered with flexibility in mind, this solution – also CE-certified – presents an array of visually striking possibilities, with the support of an installation team. With no such thing as a 'one size fits all' configuration, clients can choose from a non-illuminated specification, edge lighting with beam LEDs, the brightest back-lit option, or a soon-to-be-launched flexible lightsheet, which enables the system to be rolled up for ultimate movability.
Commenting on the team's ambition for this product range, Leach's head of innovation Mike Willshaw explained: "As with the other lightbox products in Leach Impact's portfolio, the Lightwall is designed to accommodate interchangeable fabric graphics which makes it the perfect solution for one event after another. The level of waste often left behind after trade shows and conferences is staggering – this solution therefore addresses the reuse problem whilst maximising clients' return on investment."