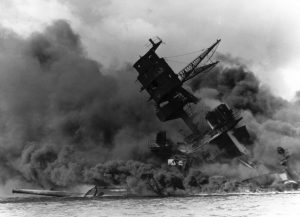 The Pearl Harbour National Memorial is under the care of the National Park Service, and is located on the island of Oahu in Hawaii.  It commemorates the loss of over 2,400 American lives and the sinking of 12 ships in a surprise attack on December 7, 1941, bringing the United States into the Second World War.  The Park Service are now seeking a contractor to digitise 792 pages from 14 historic photograph albums that form part of the collections at the Memorial. This is a Small Business Set Aside Contract.
Scan Historic Pacific War Photo Albums, Pearl Harbor National Memorial, Pearl Harbor, Hawaii
This project is to image, label and index 792 Pages from approximately 14 historic Photograph Albums owned and maintained by the National Park Service, Pearl Harbor National Memorial (formerly World War II Valor in the Pacific National Monument).
Please note that the photograph albums will be digitized in their current condition, and will not be disbound prior to digitization; loosely inserted photographs will be placed in their original location prior to image capture if the location can be determined, and returned to the location in which they were found following image capture; otherwise, photographs will be imaged in-situ.
Size: ~10" x 14"
Est. Pages: 792
Following accepted best practices, the purpose of our service is to create a faithful image surrogate of reflective and transmissive archival materials in their current condition. Loose dust will be removed with a manual air blower (not compressed air) or with a delicate brush. Minor post-processing adjustments will be performed to optimize image quality and bring all images to a common rendition.
The objects will be imaged using a high-resolution digital camera with apochromatic macro flat field optics. The light source will be Broncolor electronic flash, providing optimal light quality at minimal total light exposure.
Interested contractors should go to this link, search Public Opportunities, and then solicitation number 140P8219Q0023
Deadline for the receipt of completed proposals: 20 August, 2019
Contact:
National Park Service, Honolulu MABO
300 Ala Moana Blvd, Room 6-226
Boxt 50165
Honolulu, Hawaii 96850
USA
for the attention of: Joelle Mascarenas
joelle_mascarenas@nps.gov
+1 808 541 2693 ext. 741
Image: USS Arizona after the Attack on Pearl Harbour, 1941 / National Park Service