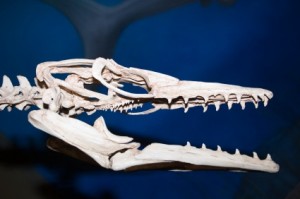 The Natural History Museum in South Kensington, London, is not only a leading visitor attraction but is one of the world's leading authorities and research institutes in natural history. They are now seeking expressions of interest from contractors in response to a prior notice for the provision of Bronze Diplodocus carnegii and Hypsilophodon foxii Models. The estimated contract value is unspecified.
United Kingdom-London: Services provided by sculptors
2020/S 044-105524
Prior information notice
This notice is for prior information only
Services
Legal Basis:
Directive 2014/24/EU
Section I: Contracting authority
I.1)Name and addresses
Official name: The Natural History Museum
Postal address: Cromwell Road
Town: London
NUTS code: UKI
Postal code: SW7 5BD
Country: United Kingdom
Contact person: Andy Davies, Procurement Manager
E-mail: a.davies@nhm.ac.uk
Telephone: +44 2079425416
Internet address(es):
Main address: www.nhm.ac.uk
I.2)Information about joint procurement
I.3)Communication
The procurement documents are available for unrestricted and full direct access, free of charge, at:
Additional information can be obtained from the abovementioned address
I.4)Type of the contracting authority
Body governed by public law
I.5)Main activity
Other activity: National museum
Section II: Object
II.1)Scope of the procurement
II.1.1)Title: Bronze Diplodocus carnegii and Hypsilophodon foxii Models
II.1.2)Main CPV code
92312230
II.1.3)Type of contract
Services
II.1.4)Short description:
In line with our new vision and strategy to 2031, the Natural History Museum is looking to help transform the study of natural history, engage and involve the widest possible audience, and develop our galleries and grounds. Our priority project is the urban nature project, which involves the transformation of the 5-acres of gardens outside the Waterhouse Building. A major feature of the new design will be the installation of life size replicas of key specimens such as the Diplodocus carnegii and Hypsilophodon foxii. As a result, the Museum intends to tender for the design, development and installation of these replicas. For a short Prospectus about the project, email a.davies@nhm.ac.uk.
II.1.5)Estimated total value
II.1.6)Information about lots
This contract is divided into lots: no
II.2)Description
II.2.1)Title:
II.2.2)Additional CPV code(s)
45262670
II.2.3)Place of performance
NUTS code: UKI
Main site or place of performance:
LONDON.
II.2.4)Description of the procurement:
The Museum intends to invite tenders to design, develop and install the life size, sustainable and durable replicas of:
— the Diplodocus carnegii, specifically based on the 'Dippy' specimen, which was gifted to the Museum by Andrew Carnegie; and
— three Hypsilophodon foxii casts based on specimens from the Museum's collections.
The replicas will be displayed outside the Waterhouse Building in South Kensington as part of the transformed Museum grounds. There may also be a requirement for sculptures of additional specimens, which will be determined in due course.
The sculptures will need to meet the following requirements:
— life size and based on the identified specimens, in order to ensure scientific accuracy;
— similar colour and texture to the original skeletons, to ensure coherence across the design;
— designed and developed using high-quality, weatherproof and durable materials to ensure longevity;
— sustainable, both in material and design process.
II.2.14)Additional information
For a short prospectus about the project, email a.davies@nhm.ac.uk
II.3)Estimated date of publication of contract notice:
16/03/2020
Section IV: Procedure
IV.1)Description
IV.1.8)Information about the Government Procurement Agreement (GPA)
The procurement is covered by the Government Procurement Agreement: yes
Section VI: Complementary information
VI.3)Additional information:
To view this notice, please click here:
https://www.delta-esourcing.com/delta/viewNotice.html?noticeId=471802612
Go reference: GO-2020228-PRO-16083484
VI.5)Date of dispatch of this notice:
28/02/2020