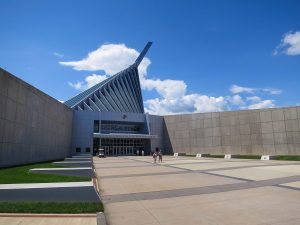 The National Museum of the Marine Corps is the historical museum of the United States Marine Corps. Located in Triangle, Virginia near MCB Quantico, the museum opened in 2006, and is now one of the top tourist attractions in the state, drawing over 500,000 people annually. The museum is currently undertaking extensive renovation works with exhibits reopening in phases until 2030. The US Department of the Navy is seeking contractors to undertake Specialized Transportation of Artwork.
US DEPT OF THE NAVY: National Museum of the Marine Corps: Specialized Transportation Of Artwork. Notice ID: M00264-21-RFI-0204. Contract Opportunity Type: Sources Sought (Original). REQUEST FOR INFORMATION (RFI).
The United States Marine Corps Marine Corps Installations National Capital Regional – Regional Contracting Office, Marine Corps Base, Quantico, VA is seeking sources capable of providing Specialized Transportation of Artwork in support of the National Museum of the Marine Corps located in Triangle, VA. The proposed effort will require "very specialized" skills , ensuring the safe handling, consultation, transport, and management of the fine art collection of the National Museum of the Marine Corps.
For further information, interested contractors should go to the following link.
Deadline for submission of proposals is 4 December 2020 by 12pm EST.
Contact:
National Museum of the Marine Corps
1314 Harwood Street SE
Washington Navy Yard, DC 20374-5018
USA
For the attention of: Joy Hughes
joy.hughes@usmc.mil