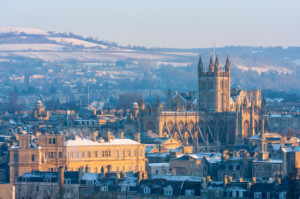 Bath Abbey is a vibrant and internationally significant parish church currently serving nearly 500,000 people annually. Footprint is a transformative programme of capital works, interpretation, collections care and sustainable energy, provoked by the urgent need to repair and renew its collapsing historic floor. They are currently seeking a contractor to produce interactive digital media and short animations. The contract value is estimated at £36,000.
Interactive Digital Media for Bath Abbey
Bath Abbey
* This package of work is comprised of eight briefs: six for the production of interactive digital media (Briefs B003, B004, B009, G011, G015, and G020) and two for the production of two short animations (Briefs B001 and B014a).
* Detailed information about the briefs, including how to tender for the work, can be found in the "Additional Documents" posted with this notice.
* Contractors are invited to bid for all of the briefs in the package or select individual briefs.
* Contractors must submit responses to each brief they are bidding for as per the requirements outlined in the "TO TENDER FOR THIS WORK" section at the end of each brief.
* If contractors are bidding for all briefs in the package, they are invited to offer discounts on their costings should they be awarded the package of work.
* There is a long lead in time for this work with the installation of the exhibits anticipated to be in April 2020. It is not expected that development work will commence before July 2018.
* The exhibits form part of the new interpretation at Bath Abbey as part of its HLF-funded Footprint Project (www.bathabbey.org/footprint).
* All questions about the package of work or briefs must be submitted via the "Questions and Answers" facility on www.mytenders.org where the package of work is posted.
Contract start date: 02 July 2018
Contract end date: 02 March 2020
Tender Document: Interactive Digital Media for Bath Abbey Package
Contractors wishing to obtain documents and bid on this opportunity should express interest.
Deadline for the submission of tenders: 02 June 2017
Contact:
Bath Abbey
12 Kingston Buildings
Bath
BA1 1LT
England
For the attention of: Oliver Taylor
Telephone: +44 1225422462
Email: otaylor@bathabbey.org