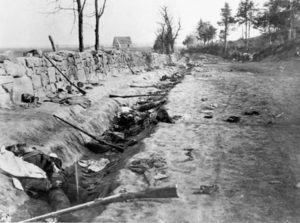 The bloodiest battle in American history took place at Antietam, in western Maryland in 1862, when a major battle in the US Civil War, 23,000 soldiers were killed, wounded or missing.  The battlefield site is now under the care of the National Park Service.  They are currently seeking a contractor to plan and design a new exhibition for the visitor center which is undergoing rehabilitation.  The production budget for this project is $577,000.
ANTIETAM NATIONAL BATTLEFIELD - EXHIBIT PLANNING AND DESIGN
Antietam National Battlefield (ANTI) is located in Washington County, in western Maryland. The Park preserves the site of the Battle of Antietam, where 23,000 soldiers were killed, wounded, or missing after twelve hours of combat on September 17, 1862 – the bloodiest day in American history. The Battle of Antietam was a major turning point in the American Civil War. The Union victory provided President Lincoln the opportunity to issue the preliminary Emancipation Proclamation. From that time onward, the American Civil War had a dual purpose— to preserve the Union and abolish slavery. The park includes approximately 3,000 acres of the battlefield, the National Cemetery, and a Visitor Center. There are approximately 350,000 park visitors annually, including many school groups; all visitors pass through the Visitor Center to pay an entrance fee, obtain orientation, and to experience interpretive media and programs.
The Visitor Center was built in 1962 as part of the Mission 66 program in the National Park Service, and is currently undergoing rehabilitation. The existing exhibits are outdated, and are being completely replaced to provide updated content, themes, and perspectives (see Attachment 14: Long-Range Interpretive Plan). A key project goal is to holistically integrate the new exhibits with the rehabilitated building to facilitate visitor flow and orientation, to improve park operations, and to provide visitors with a seamless interpretive experience. The new exhibits should be meaningful and accessible to engage visitors through multiple learning techniques, including tactile and interactive components. Artifacts from the park's collection need to be
displayed in museum-quality cases that meet conservation and security requirements.
The purpose of this contract is to provide exhibit planning and design services for the Antietam National Battlefield Visitor Center in Sharpsburg, Maryland.
Work shall include the planning and design of all exhibit structures, graphic layouts, audiovisual elements, interactive elements, artwork, artifacts, historical vignettes, sculpted models, lighting design, and information desk. Work shall also include comprehensive research for obtaining all necessary reference information and materials to design, specify, and provide comprehensive reference material for all the models, props, and artwork required in this contract. Work requires coordination, through the Contracting Officer's Representative (COR), with staff at the park, the regional office, Denver Service Center, and Eastern National (partner in managing the Sales Area) to coordinate the exhibit planning and design effort with any necessary building infrastructure improvements.
The production budget for this project is: $577,000.
Interested contractors should go to this link, search public open opportunities, and search under reference number: 140P1119Q0028
Deadline for the receipt of completed responses: 8 August 2019, 10 am EDT
Contact:
Sheila Spring
National Park Service
67 Mather Place
IDC Building
Harper's Ferry, West Virginia 25425
USA
sheila_spring@nps.gov
Image: Confederate Dead in Sunken Road, Andrew Russell, 1863