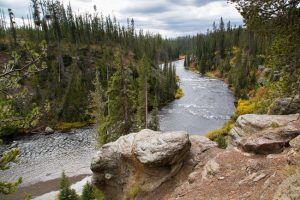 Yellowstone National Park is a nearly 3,500 square mile wilderness recreation area atop a volcanic hot spot. Mostly in Wyoming, the park spreads into parts of Montana and Idaho, too. Yellowstone features dramatic canyons, alpine rivers, lush forests, hot springs and gushing geysers, including its most famous, Old Faithful. It's also home to hundreds of animal species, including bears, wolves, bison, elk and antelope. The National Park Service, who care for the site, were seeking a contractor to conduct a four-month automated vehicle (AV) shuttle demonstration at Yellowstone National Park in summer 2021. The successful contractor is Beep Inc. of Orlando, Florida. The estimated contract value is $377,087.
NATIONAL PARK SERVICE: Automated Vehicle Shuttle Demonstration. Notice ID: 140P1420Q0019. Related Notice: 140P1420Q0019. Contract Opportunity Type: Award Notice (Original).
To see the original notice, please go to the following link.
To see the full award, please go to the following link.
Award Details:
Beep Inc.
6900 Tavistock Lakes Blvd, Suite 150
Orlando, FL 32827
USA
+1 800 640 0316
info@go-beep.com
Contact:
NPS, IMR - Northern Rockies MABO
PO Box 168
Mammoth Supply Center
22 Stable Street
Yellowstone NP, WY 82190
USA
For the attention of: Molly Lynam
Molly_Lynam@nps.gov
Image: Yellowstone National Park, NPS