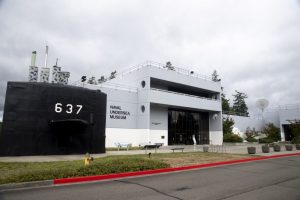 The United States Naval Undersea Museum is a naval museum located at Keyport, in the state of Washington. It is one of the 10 Navy museums that are operated by the Naval History & Heritage Command. It sits next to a branch of the Naval Undersea Warfare Center. The US Department of the Navy, were seeking a contractor to Upgrade the ageing AV equipment in the auditorium and Mary Bonnin Room training room in the museum. The successful contractor is Flamingo Audio of Poulsbo, Washington. The estimated contract value is $130,904.
AWARD: US DEPT OF THE NAVY: U.S. Naval Undersea Museum Audio Visual Upgrade. Notice ID: N0018920Q0465. Related Notice: N0018920Q0465. Contract Opportunity Type: Award Notice (Original).
To see the original notice, please go to the following link.
To see the full award, please go to the following link.
Award Details:
Flamingo Audio
P. O. Box 2022
Poulsbo, WA 98370
USA
+1 360 779 5522
Contact:
US Dept of Navy
1968 Gilbert Street, Suite 600
Norfolk, VA 23511-3392
USA
For the attention of: Lorna Mohney
lorna.mohney@navy.mil
+1 7574 431 135
Image: U.S. Navy