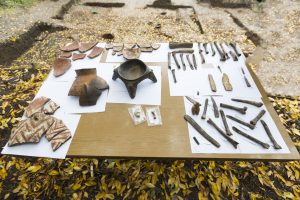 The US Army Corps of Engineers (USACE) is a federal agency, and is one of the world's largest public engineering, design, and construction management agencies. The Albuquerque District have issued an intent to Award a Sole Source Contract to the University of New Mexico to undertake the curation of Archaeological Collections recovered in past USACE projects. The estimated contract value is $36,106.
AWARD: U.S. Army Corps of Engineers, Albuquerque District Archaeological Collections: Notice of Intent to Award A Sole Source Contract. Notice ID: W912PP21V0001. Related Notice: W912PP20Q0004. Contract Opportunity Type: Award Notice (Original).
It is the Government's intent to award a sole source service contract to the Maxwell Museum of Anthropology, University of New Mexico (UNM) for the curation of existing archeological materials and associated archival records, photographs, slides, maps, etc., recovered as a result of past U.S. Army Corps of Engineers projects, and other curation associated tasks.
To see the full award, please go to the following link.
Award Details:
University of New Mexico
Albuquerque, NM 87131
USA
+1 505 277 0111
Contact:
Department of the Army Albuquerque District, Corps of Engineers
4101 Jefferson Plaza NE
Albuquerque, NM 87109-3435
USA
For the attention of: Karen Irving
karen.k.irving@usace.army.mil
+1 5053 423 356