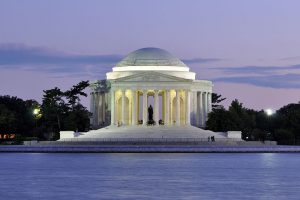 The Jefferson Memorial is a presidential memorial built in Washington, D.C. between 1939 and 1943 under the sponsorship of President Franklin D. Roosevelt to honor Thomas Jefferson, the principal author of the Declaration of Independence and the third president of the USA. The National Park Service, who care for the site, were seeking contractors to undertake Roof Restoration, Portico Justification and Additional Cleaning work. They have now announced a sole source award to Grunley Construction, Inc. of Rockville, Maryland.

thOAWARD: NATIONAL PARK SERVICE: Restoration of Jefferson Memorial Roof and Portico Justification and Approval for Additional Cleaning. Notice ID: 140P2018C0069. JUSTIFICATION FOR OTHER THAN FULL AND OPEN COMPETITION  FOR MODIFICATION FOR ADDITIONAL WORK.
To see the full award, please go to the following link.
Award Details:
Grunley Construction Inc.
15020 Shady Grove Road
Rockville, MD 20850
USA
Contact:
National Park Service
Denver Service Center
12795 W. Alameda Parkway
Denver, CO 80225-0287
USA
For the attention of: James Waller
james_waller@nps.gov