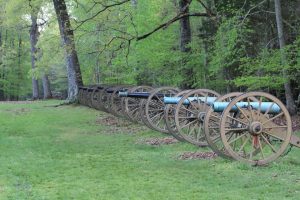 Shiloh National Military Park preserves the American Civil War Shiloh and Corinth battlefields in the US state of Tennessee. The National Park Service, who care for the site, were seeking a contractor to replace cannon carriages. The successful contractor is Fireband Inc. of Woodstock, GA. The estimated contract value is $262,002.
NATIONAL PARK SERVICE: REPLACE CANNON CARRIAGES at Shiloh National Military Park, Hardin County, Tennessee. Notice ID: 140P5221R0021. Related Notice: 140P5221R0021. Contract Opportunity Type: Award Notice (Original).
To see the original notice, please go to the following link.
To see the full award, please go to the following link.
Award Details:
Firebrand Inc.
316 Bell Park Dr,
Woodstock, GA 30188
USA
Contact:
NPS SER WEST(52000)
2680 Natchez Trace Parkway
Tupelo, MS 38804
USA
For the attention of: Evans Ward
850-934-2614
Andre_Ward@nps.gov