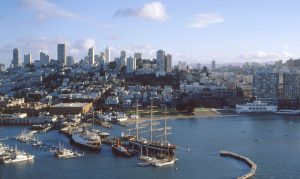 The San Francisco Maritime National Historical Park is located in San Francisco, California. The park includes a fleet of historic vessels, a visitor center, a maritime museum, and a library/research facility. The National Park Service, who care for the site, have been seeking a contractor to pack and ship over 1,000 museum artifacts to be transported to offsite storage while new shelving is being installed. The successful contractor is Ship Art International, Inc. of South San Francisco, and the total contract value is $158,500.
Museum Collections Relocation
The National Park Service (NPS), San Francisco Maritime National Historic Park (SAFR), located in San Francisco County, California, has a requirement for the relocation of museum collections. The contractor shall be responsible for providing all material, labor, equipment, and expertise needed to complete this project.
This scope of work is for relocating museum objects at San Francisco Maritime National Historical Park (SAFR) in order to allow the installation of new shelving units in the museum storage facility. This specifies the requirements to prep, pack and move museum objects stored on approximately 32 shelves (96 x 38 inches) and 7 storage bays (approx. total 42 feet in length) including several macro artifacts for transport to offsite storage. It includes a second option to later transport the objects back for unpacking and storage onto the new shelving units.
To see the original solicitation, please go to this link.
To see the award notice, please go to this link.
Successful contractor:
Ship Art International, Inc.
P.O. Box 1966
South San Francisco, CA 94083-1966
USA
Contact:
National Park Service
Fort Mason Building, 201
San Francisco, CA 94123
for the attention of: Patty Payne
Patty_Payne@nps.gov
+1 (559) 565-3181