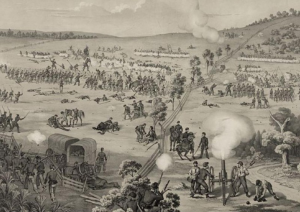 The Battle of South Mountain was fought in the US Civil War on September 14, 1862 between Confederate General Robert E. Lee who commanded the Army of Northern Virginia and Major General George B. McClellan who commanded the Union Army of the Potomac. Three pitched battles were fought there, however the engagement was overtaken by events at the more famous Battle of Antietam, which took place a few days later.  Preservation Maryland has been seeking a contractor to develop a branding strategy and implementation plans for the large landscape and historic battlefield site, to help interpret the site to the visiting public. The successful contractor is Communication Design Inc. of Richmond, Virginia.
AWARD: Preservation Maryland: Consultant for Branding Project at South Mountain Battlefield.  Reference No: P20AP00200.
Preservation Maryland contract award for South Mountain Battlefield Project. Lead Consultant: Communication Design Inc. Richmond, Virginia. No further award details are available.
To see the original notice, please go to the following link.
To see the full award, go to the following link.
Award Details:
Communication Design Inc.
3300 W Broad St # 204
Richmond, VA 23230
USA
+1 804 354 5335
Contact:
Preservation Maryland
3600 Clipper Mill Road, Suite 248
Baltimore, Maryland 21211
USA
submit@presmd.org
Image: Preservation Maryland