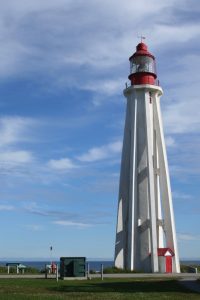 The Pointe-au-Père Lighthouse was built in 1909 in the city of Pointe-au-Père, near Rimouski, Quebec, Canada. The lighthouse is 108 feet tall, which makes it the second tallest in eastern Canada. It was replaced by an electronic lighthouse in 1975 and the site is now open for visitors as part of the Pointe-au-Père Lighthouse National Historic Site. Parks Canada who manage the site are now giving notice that they intend to appoint a contractor to provide Visitor Reception and Site Interpretation Services.  The contractor is: Site historique maritime de la Pointe-au-Père, Rimouski QC
Visitor Reception and Site Interpretation Services
Further information: An Advance Contract Award Notice (ACAN) allows departments and agencies to post a notice, for no less than fifteen calendar days, indicating to the supplier community that it intends to award a good, service or construction contract to a pre-identified contractor. If no other supplier submits, on or before the closing date, a statement of capabilities that meets the requirements set out in the ACAN, the competitive requirements of the government's contracting policy have been met. Following notification to suppliers not successful in demonstrating that their statement of capabilities meets the requirements set out in the ACAN, the contract may then be awarded using the Treasury Boards electronic bidding authorities. However, should a Statement of Capabilities be found to meet the requirements set out in the ACAN, then the contracting authority will proceed to a full tendering process.
The Contractor will provide reception and interpretation services at the Pointe-au-Père Lighthouse NHS in keeping with Parks Canada's commitment:
To protect, as a priority, the natural and cultural heritage of these special places and ensure their integrity.
To present the beauty and significance of our natural world and to chronicle the human determination and ingenuity that have shaped Canada.
To commemorate the invaluable legacy of visionary Canadians whose passion and knowledge have inspired the character and values of our country.
To serve Canadians, working together to achieve excellence guided by values of competence, respect, and fairness.
In keeping with the themes and objectives of the Parks Canada Agency for the Pointe-au-Père Lighthouse National Historic Site of Canada, the Contractor will provide an interpretation service for the public addressing the following primary and secondary themes:
The lighthouses and foghorns of Pointe-au-Père (primary theme)
Pointe-au-Père, a navigation aid centre on the St. Lawrence River (secondary theme)
Reception Service
As site manager, the Director of the Pointe-au-Père Lighthouse NHS is responsible for receiving the public (visitors and others). However, the Contractor is responsible for welcoming the public at the point of entry in accordance with Parks Canada service standards:
a. Welcome: Greet the public in both official languages. Extend an enthusiastic, courteous, and sincere welcome.
b. Assess: Anticipate, understand, and meet expectations and needs
c. Interact: Efficiently transmit accurate, precise, and up-to-date information. Provide personalized service that fosters stimulating and unique experiences. Convey our passion by sharing compelling stories.
d. Complete: Gather, take into account, and proactively follow up on comments. The Contractor will ensure equal access for all to the programs and activities offered.
Interested contractors should go to this link for further information.
Deadline for statements of capabilities is 25 February 2020, by 2pm EDT.
Contact:
Parks Canada
111 Water Street
East Cornwall,  ON K6H 6S2
Canada
For the attention of: Celine Morin
celine.morin@canada.ca
+1 613 938 5940
Image: Pointe-au-Père Lighthouse/ Wikimedia Commons