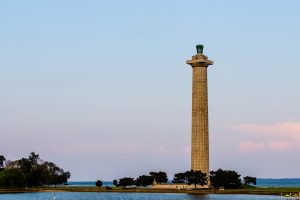 Perry's Victory and International Peace Memorial (pictured) commemorates the Battle of Lake Erie that took place near Ohio's South Bass Island, in which Commodore Oliver Hazard Perry led a fleet to victory in one of the most significant naval battles to occur in the War of 1812. The National Park Service, who care for the site, were seeking contractors to design and fabricate a high-quality traveling/mobile exhibit to educate the public about marine debris. The successful contractor is Fisher Graphix of Youngsville, North Carolina. The estimated contract value $18,950.
AWARD: NATIONAL PARK SERVICE: Design and Fabrication of Marine Debris Traveling/Portable Exhibit. Notice ID: 140P6420Q0077. Related Notice: 140P6420Q0077. Contract Opportunity Type: Award Notice (Original).
To see the original notice, please go to the following link.
To see the full award, please go to the following link.
Award Details:
Fisher Graphix
Youngsville, NC
USA
+1 919 426 3241
Contact:
NPS, MWR - Ohio MABO
1113 West Aurora Road
Sagamore Hills OH 44067-1678
For the attention of: Lauren Brauer
lauren_brauer@nps.gov