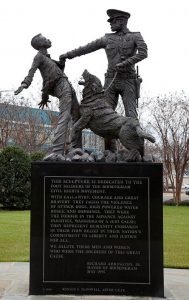 In 2017, three separate National Monuments, were established by President Barack Obama. They were, Reconstruction Era National Historical Park in South Carolina, the Birmingham Civil Rights National Monument (pictured) and the Freedom Riders National Monument in Alabama. The National Park Service, who care for these sites have been seeking a contractor to provide three Scope of Collection Statements that will aid collections management planning, growth and future needs. The successful contractor is Jacqueline Bass Preservation LLC. The estimated contract value is $49,062.
AWARD: NATIONAL PARK SERVICE: Preparation of three scope of collection statements. Notice ID: 140P5120Q0028. Contract Opportunity Type: Award Notice (Original)
To see the original notice, go to the following link.
To see the full award, go to the following link.
Award Details:
Jacqueline Bass Preservation LLC.
10255 Crescent Ridge Drive
Roswell, GA 30076
USA
+1 404 358 3580
Contact:
National Park Service
East Major Acquisition Buying Office
100 Alabama Street SW 1924 Building
Atlanta, GA 30303
USA
For the attention of: Celinda Hicks
celinda_hicks@nps.gov
Image: A sculpture representing the police violence toward peaceful protesters during the Birmingham Civil Rights Movement. Carol M. Highsmith/ Library of Congress