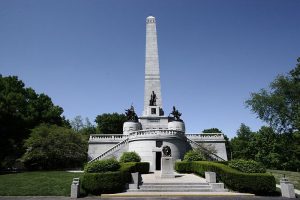 The Lincoln Tomb is the final resting place of the 16th President of the United States, Abraham Lincoln, his wife, Mary Todd Lincoln, and three of their four sons, Edward, William, and Thomas. It is located in Oak Ridge Cemetery in Springfield, Illinois. The State of Illinois: Department of Natural Resources has been seeking contractors to provide architectural/engineering services to access the upper deck of the tomb.  They have now awarded the contract to Bailey Edward Design, Inc. The contract amount is $118,403.24.
A/E Services to Assess the Upper Deck of Lincoln Tomb, a State Historic Site. Bid Solicitation: 20-422DNR-REALT-B-13536.
The Department of Natural Resources is providing notice of intent to award a contract for the Lincoln Tomb State Historical Site Upper Deck Assessment. Solicited via the Illinois Procurement Bulletin #22042938. Bailey Edward Design, Inc. $118,403.24.
To see the award, click here.
Bailey Edward Design, Inc.
35 East Wacker Drive, Suite 2800
Chicago, IL 60601
312-440-2300
Contact:
DNR-Office of Realty and Capital Planning
Fiscal Officer
One Natural Resources Way
Springfield, IL 62702
USA
For the attention of: Karen Rueter
+1 217 782 0356
Image: Lincoln's Tomb/ Wikimedia Commons