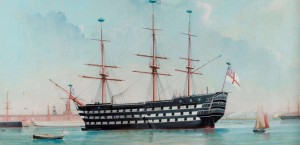 HMS Victory is the oldest commissioned warship in the world and is the Flagship of the Royal Navy. In 1805 she achieved lasting fame as the flagship of Vice-Admiral Nelson in Britain's greatest naval victory, the defeat of the French and Spanish at the Battle of Trafalgar. The National Museum of the Royal Navy has been seeking a contractor for the provision of structural modelling for the upcoming conservation project. The successful contractor is Fenton Holloway Limited, and the total contract value is £700,000.
To see the original tender, please go to this link.
To see the tender award, please go to this link.
Contact:
The National Museum Royal Navy
HM Naval Base (PP66)
Portsmouth
PO1 3NH
United Kingdom
E-mail: tenders@nmrn.org.uk
Successful contractor:
Fenton Holloway Ltd
43-45 Park Street
Bristol BS1 5NL
UK