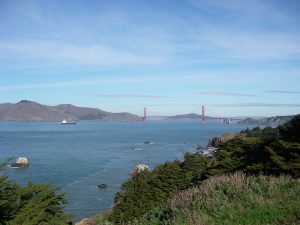 The Golden Gate National Recreation Area is a U.S. National Recreation Area protecting 82,027 acres of ecologically and historically significant landscapes surrounding the San Francisco Bay Area and is the most visited unit of the National Park system in the United States, with more than 15 million visitors a year. It is also one of the largest urban parks in the world, with a size two-and-a-half times that of the consolidated city and county of San Francisco. The National Park Service has been seeking a contractor to undertake Water Taxi Transportation of NPS and contracted employees between Alcatraz Island and the San Francisco waterfront. The successful contractor is Cross Link Inc., of San Francisco and the estimated contract value is $111,075.
NATIONAL PARK SERVICE: ALCATRAZ ISLAND WATER TAXI SERVICES. Notice ID: 140P8621Q0005. Related Notice: 140P8621Q0005. Contract Opportunity Type: Award Notice (Original).
To see the prior notice, please go to the following link.
To see the full award, please go to the following link.
Award Details:
Cross Link Inc.
PO Box 78100
San Francisco, CA 94107
USA
+1 415 495 3191
Contact:
NPS, PWR - GOGA MABO
Building 201
Fort Mason
San Francisco, CA 94123
US
For the attention of: Liset Gomez
Liset_Gomez@nps.gov
Image: Golden Gate, Lands End Point Lobos/ Wikimedia Commons