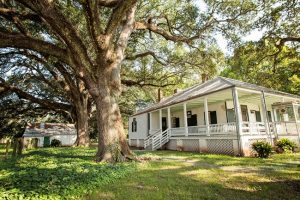 Established in 1994, the Cane River Creole National Historical Park serves to preserve the resources and cultural landscapes of the Cane River region in Natchitoches Parish, Louisiana. The park is comprised of two Creole plantations, Oakland and Magnolia Plantations (pictured), with a headquarters area at the historic Texas and Pacific Railway Depot. The National Park Service, who care for the site were seeking contractors to undertake Interpretive Planning Services to turn the railway depot into a visitor center. The Depot was constructed in 1927 during the height of the Jim Crow era and was segregated into "white" and "colored" waiting rooms. Today the structure remains as one of the last segregated train stations within Louisiana and has a deep connection to the African American community. The Depot will serve as the primary visitor center for the park. The successful contractor is Thirteen 92 Corp of Doral, Florida. The estimated contract value is $46,156.
NATIONAL PARK SERVICE: Interpretive Planning for Texas & Pacific Railway Depot. Notice ID: 140P5221Q0006. Related Notice: 140P5221Q0006. Contract Opportunity Type: Award Notice (Original).
To see the original notice, please go to the following link.
To see the full award, please go to the following link.
Award Details
Thirteen 92 Corp.
4815 Nw 98th Pl
Doral, FL, 33178-1929
USA
Contact:
National Park Service
2680 Natchez Trace Parkway
Tupelo, MS 38804
USA
For the attention of: Laurie Sherrod
Laurie_Sherrod@nps.gov
Image: NPS